DENTAL IMPLANTS
in Wiesbaden
For a new attitude towards life!
Both safety and comfort
with artificial roots.
BENEFITS OF DENTAL IMPLANTS
Tooth loss is a severe incident that can lead to a loss in quality of life and self-confidence: it makes a carefree smile or an enjoyable meal almost impossible.
But this doesn't have to be the case: we can eliminate this problem with the use of dental implants. Often, we're able to answer questions on the applicability of such a procedure in various situations with: yes. If tooth loss occurs, the use of implants offers several benefits.

Natural appearance

Natural appearance

Highly stable

Comfort during biting or chewing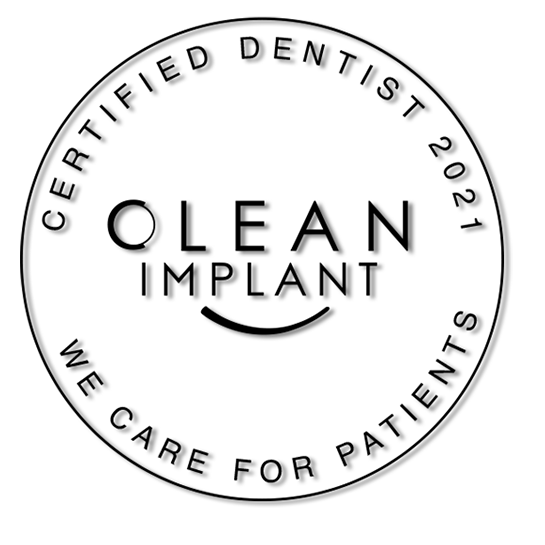 Dental implants consist of three parts: the implant body, the neck, and the crown. They assume the role of the dental root that transfers the impact of chewing directly onto the jaw. The jawbone thus maintains its function, preventing it from deteriorating.
The natural feeling of chewing is restored or preserved, while uncomfortable tastes, dryness of the mouth or the accidental misplacement of an implant become less likely. The appearance and functionality of the remainder of your teeth remain unaffected by the clamps or sanding disc: only the tooth in question is treated.
On top of the robust implant body made of titanium comes the crown or bridge made of high-performance ceramic. With diligent care and regular check-ups, you'll enjoy a long-lasting and highly aesthetic prosthesis. Thus the benefits of using dental implantology are the natural appearance of its results, its robust stability and the ability to bite and chew painlessly and comfortably.
DENTAL IMPLANT SURGERY TIMELINE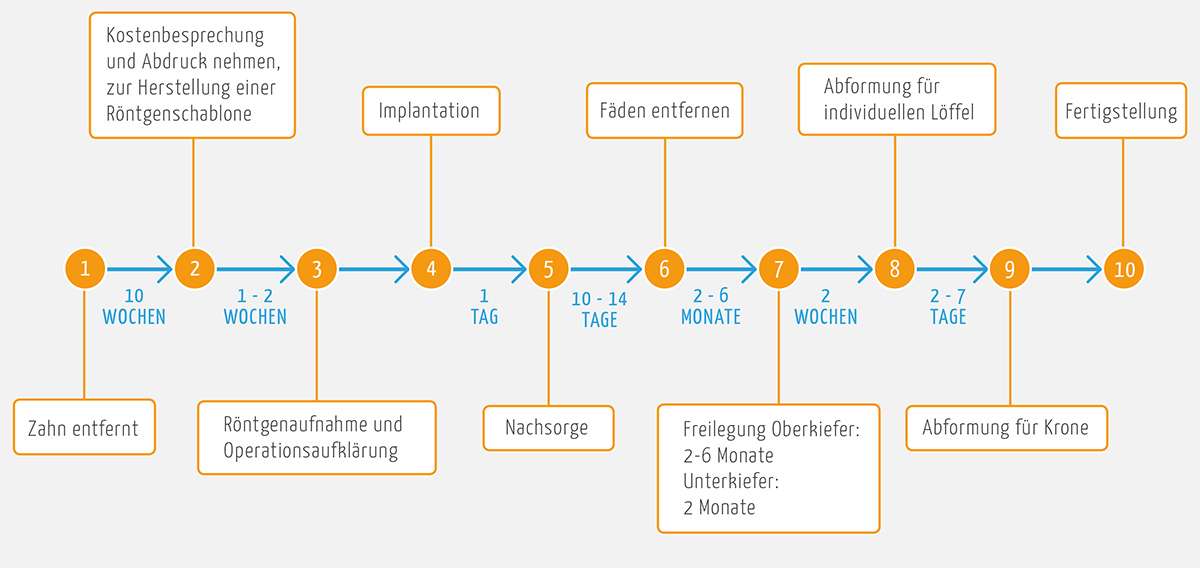 FULLY GUIDED
Digitally Driven Implant Surgery
3D X-RAY | 3D PRINTS | 3D MODELLING
From our x-ray diagnostics, throughout the surgical planning process, up until the drill design printed by a 3-D printer: each step takes place digitally. The guided implementation of digital planning allows for predictable results, even in the most complex of cases.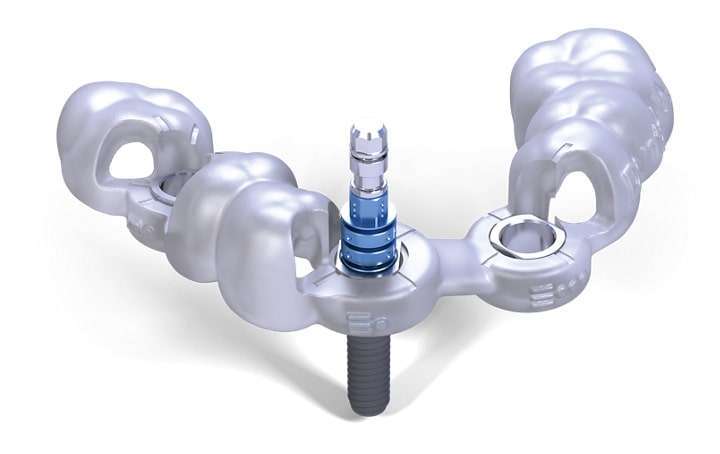 Dental implantology is a common treatment method that has been conducted for several years – by the thousands daily in Germany alone. State-of-the-art imaging techniques and fully guided implantation offer the following benefits:

Quality
The position of the implant is the exact same as that of the natural tooth that was removed.

Safety
Even in what seem to be more complicated cases, a referral to an oral and maxillofacial surgeon can normally be prevented.

Scope
Precise diagnostics allow us to avoid resorting to complicated bone grafting.

Transparency
Due to clear and aesthetic verbal communication.
This is what our patients say
Dental implants for a new attitude towards life
Healthy teeth require either a healthy root or a dental implant. Advances in modern dental medicine have allowed not only for teeth to be simply replaced, but for them to be functionally and aesthetically integrated into the rest of the mouth with ease.
In our office, Zahn|Zentrum Wiesbaden, we've provided numerous patients with dental implants, giving them a piece of their quality of life back. Missing teeth often pose serious psychological consequences. Patients tend to feel embarrassed to show their teeth or gap in public. This can lead to a lack of self-confidence and self-awareness. The use of a modern dental implant can thus restore one's sense of life and fulfillment.
Problems with chewing or speaking are a thing of the past. Since a prosthetic tooth is hardly recognizable by others, you'll be able to smile again, carefree.
Make an appointment at our Zahn|Zentrum in Wiesbaden
What is a dental implant?
An implant is a synthetic, biocompatible dental root – that is, it is comprised of a material that the body can accept as its own. This root is most often made of titanium, but can also be ceramic. This synthetic dental root is transplanted into the jawbone and will regrow around the structure throughout a healing period of about two to six months. When the implant is positioned firmly into the jaw bone, the actual prosthesis – for example, a crown – can be fixed on top of the structure. Dental implants that are provided by us in Zahn|Zentrum in Wiesbaden have the advantage of being placed extremely sturdily, guaranteeing stability and the feeling of a real tooth. When it comes to comfort, we don't make compromises: no shifting, no wiggling. Additionally, you won't have to worry about misalignment of the jaw caused by the loss of one or several teeth.
Dental implants and their effect on the jaw
Dental implants have a highly positive effect on the stability of the jawbone. When one or more teeth are missing, a deterioration of the jaw can occur rather quickly. Tooth loss causes greater stress for the remaining teeth, which can lead to long-term distress and misalignments. For this reason, gaps in the mouth should be filled as quickly as possible – whether they are due to periodontitis, cavities, or an accident. With a dental implant like the one you'll receive at Zahn|Zentrum in Wiesbaden, not only will you enjoy an aesthetically pleasing result, but also the long-term stability of your jaw. The implant functions like a natural root: the shock due to the impact of chewing is transferred to the jawbone, which – like the tooth itself – is naturally placed under stress. This way, you are protected from misalignment and discomfort. Another argument for dental implants is that unlike with conventional bridges, the neighboring teeth do not have to be shaved. That means we can preserve as much of your natural teeth as possible.
Whether or not a dental implant is the right decision is principally discussed in a comprehensive consultation – our dentist, Andreas Gawron, is there to help and to give you suggestions based on your individual diagnosis.
What is a dental implant?
Dental implantology is a common treatment method that has been conducted for several years – by the thousands daily in Germany alone. State-of-the-art imaging techniques and fully guided implantation also minimize various risks. We first create an image depicting the initial condition of the tooth, for which the condition of the jaw used for the implant bed plays a significant role. A thorough preliminary examination, as well as a detailed and comprehensive diagnosis, are necessary prerequisites for a successful treatment. These allow us to come up with individualized implant-based solutions tailored to the needs of each patient. We will use our knowledge to determine which type of dental implant, surface, and which length and diameter are most fit for you.
Dental implants can last a lifetime with good oral hygiene. They can be combined either with a removable or a fixed prosthesis. Depending on the initial condition of the tooth, there are various types to choose from. Most patients nowadays, however, prefer to have a fixed prosthesis. In the case of complete tooth loss, six to eight implants in the lower jaw and eight to ten in the upper jaw can suffice. Crowns and bridges that hardly differ in appearance and functionality from a natural tooth may also be placed on top.
For more detailed information about dental implants or a preliminary examination, come visit our dental office in Wiesbaden. Give us a call at 0611 / 30 30 08 or book an appointment using our contact form.
You can obtain more information on the website of the German Society of Oral Implantology..